I started watching the IRL in 2002 when Team Penske defected from CART. This was to be the last year that some of the established IRL teams had a chance, as 2003 would see the arrival of the juggernaut Andretti Green and Target Chip Ganassi teams, sponsored by Honda, and the bar was raised, effectively destroying Tony George's original stated intent of an affordable American series with American drivers.
All downloads on this site are free and the site has no banner advertising. Please help with the costs of running this site and expanding the range and variety of downloads by making a small donation.
IRL 2002 Car Set
The Season 2002 IRL carset features my selection from the most regular teams and drivers for the 2002 season, complete with car, cockpit, driver helmets, pit-crews, pit-boxes, tyres and team art. Because of the nature of Grand Prix 3, I couldn't feature all the liveries in one carset, so there is an "A" and "B" set for you to pick from. The GP3-2000 carset features both sets of liveries and the same drivers.
Series A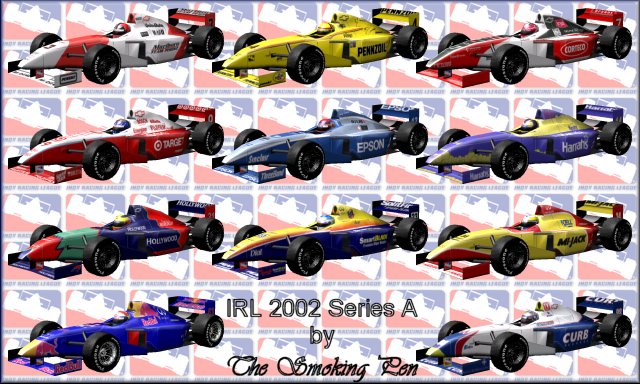 Series B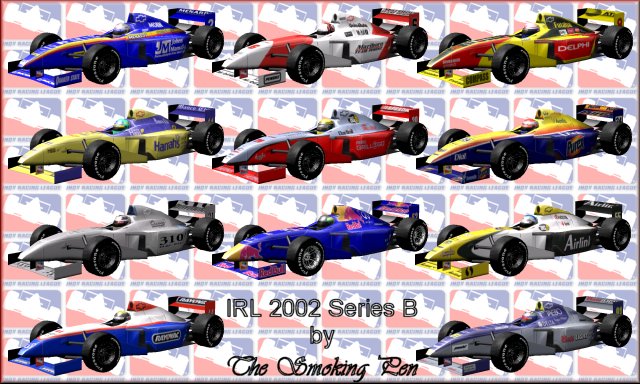 | | | | |
| --- | --- | --- | --- |
| Download | File Name | File Size | Description |
| | 2002irla.zip | 1201KB | This zip file contains the in-game graphics for the Series A cars in Grand Prix 3 in GP3 format, ready to load into the game using Steven Young's GP3edit. |
| | 2002irlat.zip | 1706KB | This zip file contains the team art, driver photos and menu graphics for the Series A cars in Grand Prix 3 in GP3 format, ready to load into the game using GP3edit. |
| | 2002irlb.zip | 1187KB | This zip file contains the in-game graphics for the Series B cars in Grand Prix 3 in GP3 format, ready to load into the game using Steven Young's GP3edit. |
| | 2002irlbt.zip | 1647KB | This zip file contains the team art, driver photos and menu graphics for the Series B cars in Grand Prix 3 in GP3 format, ready to load into the game using GP3edit. |
| | irl2002gp32k.zip | 1990KB | This zip file contains the in-game graphics for both Series A and Series B cars combined for Grand Prix 3 Season 2000. Extract the files as directed in the gp3form.txt file and run using gpxpatch v3.03 or higher. |
| | irl02gp32kart.zip | 3459KB | This zip file contains the team arts graphics. Requires ArtTool 2000 to install |