The IRL changed significantly in 2003, with the arrival of the two of the top teams from CART, Andretti Green, (formerly KOOL Green), and Target Chip Ganassi Racing, along with Mo Nunn and a single car presence for Rahal Letterman, who ran former IRL champion Kenny Brack. Chip Ganassi had a toe in the water the year before, with a single car effort for Jeff Ward, as did Mo Nunn, but this year saw them moving full-time into the IRL. The existing teams didn't have a prayer....
All downloads on this site are free and the site has no banner advertising. Please help with the costs of running this site and expanding the range and variety of downloads by making a small donation.
IRL 2003 Car Set
The Season 2003 IRL carset for features my selection from the teams and drivers for the 2003 season, as the cars appeared at the 2003 Indianapolis 500. The set comes complete with car, cockpit, driver helmets, pit-crews, pit-boxes, tyres and team art. The GP3-2000 carset features additional cars liveries, performance files for each race of the year and all driver helmets for the 2003 season.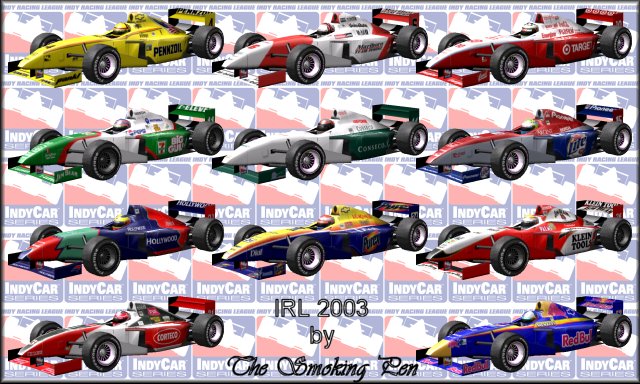 | | | | |
| --- | --- | --- | --- |
| Download | File Name | File Size | Description |
| | irl2003a.zip | 1211KB | This zip file contains the in-game graphics for Grand Prix 3 v1.13 in GP3 format, ready to load into the game using Steven Young's GP3edit. |
| | irl2003b.zip | 1588KB | This zip file contains the team art, driver photos and menu graphics for Grand Prix 3 v1.13 in GP3 format, ready to load into the game using GP3edit. |
| | irl2003gp32k.zip | 3222KB | This zip file contains the in-game graphics for Grand Prix 3 Season 2000. Extract the files as directed in the gp3form.txt file and run using gpxpatch v3.03 or higher. |
| | irl03gp32kart.zip | 3194KB | This zip file contains the team arts graphics. Requires ArtTool 2000 to install |