This page has been uploaded with the original links to zUpload.com. I am in the process of transferring everything across to grandprixgames.org, so please be aware that some links may not work. Thank you for your understanding - please try again in a few weeks.
CART Season 2003 from the Smoking Pen is available for both Grand Prix 3 and Grand Prix 3-2000. Please note that all carsets are HARDWARE MODE only - but I've got good results for software versions of most cars using the Create Software option in GP3Edit. There is a Grand Prix 3 carset for each race, featuring the better finishing car of each team or pairing. The GP3-2000 set features all of the cars, but is in several parts to make downloading easier.
With only 19 cars racing in CART in 2003, I added three extra cars, making Patrick, PKR and Fernandez into two car teams, with the extra drivers being Memo Gidley, Mika Salo and Luis Diaz respectively. Car liveries for the first two cars are based on the "real" team entry, whilst Luis Diaz's car is based on his Toyota Atlantic livery. These alternate liveries are only available as part of the GP3-2000 set.
The GP3 carsets require GP3Edit to install. The GP3-2000 carset will unzip into your Grand Prix 3 Season 2000 folder and create it's own folders, whilst the GP3-2000 team art requires Marc Aarts' Art Tool to install. To run properly, the Grand Prix 3-2000 set requires gpxpatch 2.21 or higher.
CART Season 2003 for Grand Prix 3 Season 2000
The graphic below shows the "other" 11 cars for the St Petersburg race to the ones shown below for the GP3 St Petersburg Edition. All of the cars, drivers, cockpits etc. and performance files included in the GP3 Race Editions are now available in one easy-to-install download.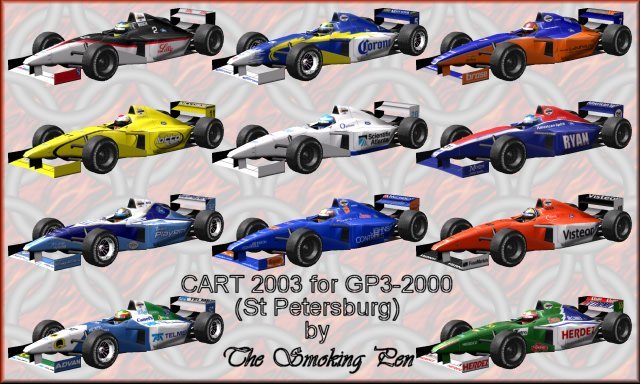 | | | | |
| --- | --- | --- | --- |
| Download | File Name | File Size | Description |
| | cart03gp32k.zip | 7803KB | The Smoking Pen's Season 2003 Champ Car Carset, featuring all of the cars and drivers in Season 2003 up to and including the race at Burke Lakefront Airport, Cleveland. |
| | cart03gp32k1.zip | 2401KB | The first add-on for Smoking Pen's Season 2003 Champ Car Carset, featuring all of the cars and drivers for the 5 races from Toronto to Montreal. |
| | cart03gp32kart.zip | 3347KB | Team Arts in GP3-2000 style for The Smoking Pen's Season 2003 Champ Car Carset. Art Tool 2000 required to install. |
| | cart03gp32k2.zip | 2350KB | The second add-on for Smoking Pen's Season 2003 Champ Car Carset, featuring all of the cars and drivers for the final 4 races of the season. |
CART Season 2003 - Grand Prix 3 Master Set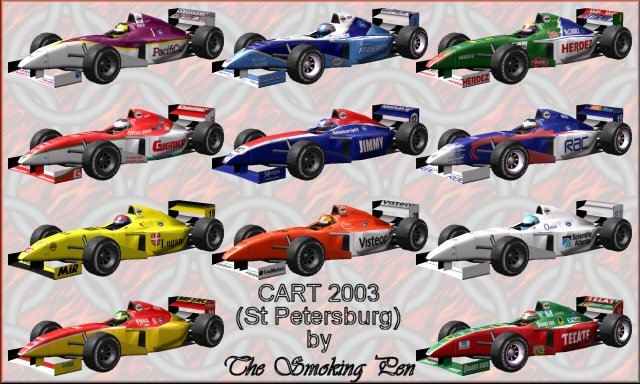 Grand Prix 3 Team Arts
| | | | |
| --- | --- | --- | --- |
| | cart2003arts.zip | 1692KB | This zip file contains the team art, driver photos and menu graphics in GP3 format, ready to load into the game using GP3edit. |
| | cart2003altarts.zip | 338KB | This zip file contains the team art, driver photos and menu graphics for Fittipaldi-Dingman and Rocketsports, if you are racing as Tiago Monteiro or Alex Tagliani instead of Michel Jourdain Jr or Mario Haberfeld. |
Race Sets for Grand Prix 3
Grand Prix of St Petersburg Edition
| | | | |
| --- | --- | --- | --- |
| Download | File Name | File Size | Description |
| | cart03stpete.zip | 1097KB | Race-specific graphics and performance files in GP3 format for the race on the Streets of St Petersburg, Florida. |
Tecate Telmex Monterrey Grand Prix Edition
| | | | |
| --- | --- | --- | --- |
| Download | File Name | File Size | Description |
| | cart03montmx.zip | 1109KB | Race-specific graphics and performance files in GP3 format for the race at Parque Fundidora in Monterrey, Mexico. |
Toyota Grand Prix of Long Beach Edition
| | | | |
| --- | --- | --- | --- |
| Download | File Name | File Size | Description |
| | cart03long.zip | 1106KB | Race-specific graphics and performance files in GP3 format for the race on the Long Beach Street Circuit in Long Beach, California. |
The London Champ Car Trophy Edition
| | | | |
| --- | --- | --- | --- |
| Download | File Name | File Size | Description |
| | cart03brands.zip | 1107KB | Race-specific graphics and performance files in GP3 format for the race on the Brands Hatch Indy Circuit in Kent, England. |
The German 500 Edition, featuring Alex Zanardi
| | | | |
| --- | --- | --- | --- |
| Download | File Name | File Size | Description |
| | cart03lausitz.zip | 1088KB | Race-specific graphics and performance files in GP3 format for the race at the Eurospeedway in Lausitz, Germany, including Alex Zanardi's special car. |
The Milwaukee Mile 250 Edition
| | | | |
| --- | --- | --- | --- |
| Download | File Name | File Size | Description |
| | cart03milwaukee.zip | 1100KB | Race-specific graphics and performance files in GP3 format for the race at the Milwaukee Mile in West Allis, Wisconsin. |
The Grand Prix of Monterey Edition
| | | | |
| --- | --- | --- | --- |
| Download | File Name | File Size | Description |
| | cart03laguna.zip | 1116KB | Race-specific graphics and performance files in GP3 format for the race at the Mazda Raceway Laguna Seca in Monterey, California. |
The G.I. Joe's 200 Edition
| | | | |
| --- | --- | --- | --- |
| Download | File Name | File Size | Description |
| | cart03portland.zip | 1125KB | Race-specific graphics and performance files in GP3 format for the race at the Portland International Raceway in Portland, Oregon. |
The US Bank Presents The Cleveland Grand Prix Edition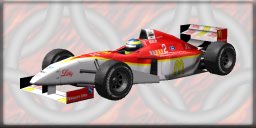 | | | | |
| --- | --- | --- | --- |
| Download | File Name | File Size | Description |
| | cart03cleveland.zip | 1122KB | Race-specific graphics and performance files in GP3 format for the race on the runways of Burke Lakefront Airport in West Allis, Wisconsin. As Tiago Monteiro hasn't yet appeared in these carsets yet and didn't race at Cleveland on medical advice, I thought it was time he appeared in a carset. The car illustrated above, though, is Sebastien Bourdias' new MacDonalds-liveried car. |
The Molson Indy Toronto Edition
| | | | |
| --- | --- | --- | --- |
| Download | File Name | File Size | Description |
| | cart03toronto.zip | 1118KB | Race-specific graphics and performance files in GP3 format for the race on the streets of Toronto, Ontario |
The Molson Indy Vancouver Edition
| | | | |
| --- | --- | --- | --- |
| Download | File Name | File Size | Description |
| | cart03vancouver.zip | 1115KB | Race-specific graphics and performance files in GP3 format for the race on the streets of Vancouver, British Columbia. |
The Mario Andretti Grand Prix at Road America Edition
| | | | |
| --- | --- | --- | --- |
| Download | File Name | File Size | Description |
| | cart03roadamerica.zip | 1114KB | Race-specific graphics and performance files in GP3 format for the race at Road America, Elkhart Lake, Wisconsin. |
The Champ Car Grand Prix of Mid Ohio Edition
| | | | |
| --- | --- | --- | --- |
| Download | File Name | File Size | Description |
| | cart03midohio.zip | 1115KB | Race-specific graphics and performance files in GP3 format for the race at the Mid Ohio Sports Car Course in Lexington, Ohio. |
The Molson Indy Montreal Edition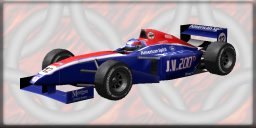 | | | | |
| --- | --- | --- | --- |
| Download | File Name | File Size | Description |
| | cart03montreal.zip | 1121KB | Race-specific graphics and performance files in GP3 format for the race at the Circuit Gilles Villeneuve in Montreal, Canada, including Jimmy Vasser's special 200th race livery. |
The Centrix Financial Grand Prix of Denver Edition
| | | | |
| --- | --- | --- | --- |
| Download | File Name | File Size | Description |
| | cart03denver.zip | 1129KB | Race-specific graphics and performance files in GP3 format for the race on the Denver Street circuit |
The Grand Prix Americas presented by Sportsbook.com Edition
| | | | |
| --- | --- | --- | --- |
| Download | File Name | File Size | Description |
| | cart03miami.zip | 1140KB | Race-specific graphics and performance files in GP3 format for the race on the Miami Bayfront Street Circuit. |
The Gran Premio Telmex-Gigante presented by Banamex/VISA Edition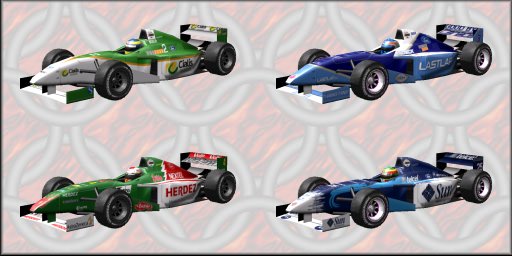 | | | | |
| --- | --- | --- | --- |
| Download | File Name | File Size | Description |
| | cart03mexicocity.zip | 1132KB | Race-specific graphics and performance files in GP3 format for the race at the Autodromo Hermanos Rodriguez in Mexico City, Mexico. This set include the new Sebastien Bourdais Cialis livery and Paul Tracy's "Thanks Fans" livery. |
The Lexmark Indy 300 Edition
| | | | |
| --- | --- | --- | --- |
| Download | File Name | File Size | Description |
| | cart03surfers.zip | 1131KB | Race-specific graphics and performance files in GP3 format for the final race of the season at the Surfer's Paradise Street Circuit in Queensland, Australia. |