Champ Car Season 2004 from the Smoking Pen is available for both Grand Prix 3 and Grand Prix 3-2000. Please note that all carsets are HARDWARE MODE only - but I've got good results for software versions of most cars using the Create Software option in GP3Edit. There is one Grand Prix 3 carset for the season, featuring the better finishing car of each team or pairing, and the GP3-2000 set features all of the cars.
With only 19 cars racing in ChampCar in 2004, I again added three extra cars, making the Forsythe Corona team into a two car team, (with the second driver being Luis Diaz again), whilst adding an 11th team for IRL refugees Hemelgarn, featuring Sarah Fisher &amp Buddy Lazier. (OK, so Derrick Walker only ran 2 cars at Surfer's Paradise &amp Mexico City, but I made use of the same livery for a fictional car featuring another unemployed IRL driver, Richie Hearn.)
The GP3 carset requires GP3Edit to install. The GP3-2000 carset will unzip into your Grand Prix 3 Season 2000 folder and create it's own folders, whilst the GP3-2000 team art requires Marc Aarts' Art Tool to install. To run properly, the Grand Prix 3-2000 set requires gpxpatch 2.21 or higher.
Rather than produce livery updates for each race, (which would have taken more time than I had and continue to have), I produced a livery for each driver, chosen by their best finish. For example, Paul Tracy's livery is for the race he won at Long Beach, whereas in the GP3-2000 set, Pat Carpentier's livery is for the race he won at Laguna Seca. The Grand Prix 3 set features the "winningest" car livery of each driver pairing.
Champ Car Season 2004 for Grand Prix 3
| | | | |
| --- | --- | --- | --- |
| | cart04season.zip | 1502KB | Race-specific graphic and performance files in GP3 format for the race on the Streets of Long Beach, together with helmets for every driver in the series, their "best finish" liveries and performance files for every race, so that you can update the set as you race the season. |
| | cart2004arts.zip | 2694KB | This zip file contains the team art, driver photos and menu graphics in GP3 format, ready to load into the game using GP3edit. |
Champ Car Season 2004 for Grand Prix 3 Season 2000
The graphic below shows the "other" 11 cars for the Long Beach race to the ones shown below for the GP3 season set. All of the cars, drivers, cockpits etc. and performance files included in the GP3 Race Editions are now available in one easy-to-install download.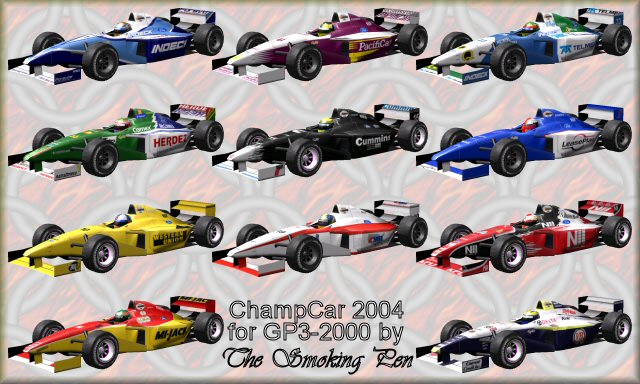 | | | | |
| --- | --- | --- | --- |
| Download | File Name | File Size | Description |
| | cart04gp32k.zip | 3623KB | The Smoking Pen's Season 2004 Champ Car Carset, featuring all drivers in Season 2004 and their cars in "best finish" livery". |
| | cart04gp32kart.zip | 3126KB | Team Arts in GP3-2000 style for The Smoking Pen's Season 2004 Champ Car Carset. Art Tool 2000 required to install. |