When Ralph Hummerich stopped doing carsets for Grand Prix 3 and moved on to mod for other games, I decided to produce my own F1 carset for both GP3 and GP3-2000, which I'm glad to say was well received.
Formula One 2003 Car Set
The Season 2003 Formula carset for features all the teams and drivers for the 2003 season, with performance files for each race and optional NT liveries. The set comes complete with car, cockpit, driver helmets, (courtesy of András Vincze), pit-crews, pit-boxes, tyres and team art. For the season collection of helmets by András, download his complete set from www.grandprixgames.org. The GP3-2000 carset features self-selecting NT car liveries, performance files for each race of the year and all of András' driver helmets for the 2003 season. In the absence of an 11th team on the grid this year, I have promoted F-3000 champion team Arden International to take that slot in the game.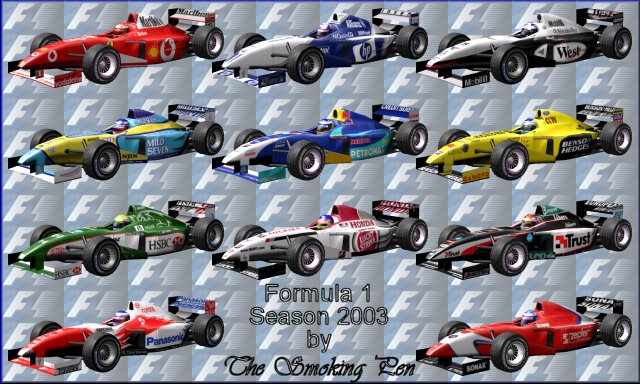 | | | | |
| --- | --- | --- | --- |
| Download | File Name | File Size | Description |
| | 2003f1a.zip | 1623KB | This zip file contains the in-game graphics for Grand Prix 3 v1.13 in GP3 format, ready to load into the game using Steven Young's GP3edit. |
| | 2003f1b.zip | 1579KB | This zip file contains the team art, driver photos and menu graphics for Grand Prix 3 v1.13 in GP3 format, ready to load into the game using GP3edit. |
| | 2003f1gp32k.zip | 4550KB | This zip file contains the in-game graphics for Grand Prix 3 Season 2000. Extract the files as directed in the gp3form.txt file and run using gpxpatch v3.03 or higher. |
| | f103gp32kart.zip | 3484KB | This zip file contains the team arts graphics. Requires ArtTool 2000 to install |