I always enjoyed the racing in F-3000, (and, indeed, continue to do so with GP2), to the point where I decided to produce an F-3000 carset. 2002 was a bit of a vintage year, producing Sebastien Boudais as well as several other drivers later to feature in Champ Car and/or F1, but this also showed up a deficiency in GP3 - setting the cars' engine BHP at F-3000 levels rather than F1 levels meant that the AI drivers are asleep at the start, so this was the only F-3000 set I ever did.
All downloads on this site are free and the site has no banner advertising. Please help with the costs of running this site and expanding the range and variety of downloads by making a small donation.
Formula 3000 2002 Car Set
The Season 2002 Formula 3000 carset features all of the teams for the 2002 season with their most regular drivers, complete with car, cockpit, driver helmets, pit-crews, pit-boxes, tyres and team art. As only 10 teams competed in the championship in 2002, an eleventh team has been added, the Bright Green Machine of Team Pen Racing. The GP3-2000 carset features varied liveries for each driver where appropriate.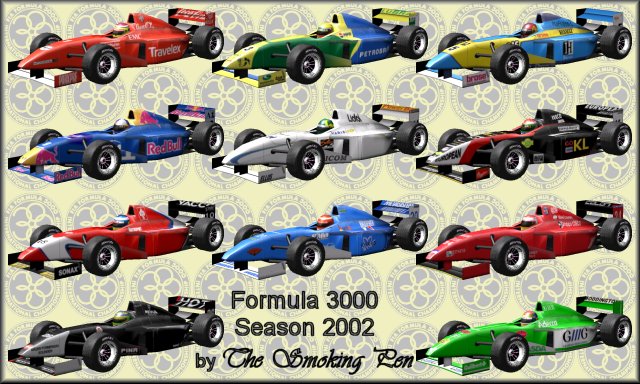 | | | | |
| --- | --- | --- | --- |
| Download | File Name | File Size | Description |
| | 2002f3000a.zip | 1059KB | This zip file contains the in-game graphics for Grand Prix 3 in GP3 format, ready to load into the game using Steven Young's GP3edit. |
| | 2002f3000b.zip | 2249KB | This zip file contains the team art, driver photos and menu graphics for Grand Prix 3 in GP3 format, ready to load into the game using GP3edit. |
| | 2002f3000gp32k.zip | 1641KB | This zip file contains the in-game graphics for Grand Prix 3 Season 2000. Extract the files as directed in the gp3form.txt file and run using gpxpatch v3.03 |
| | f3k02gp32kart.zip | 3011KB | This zip file contains the team arts graphics. Requires ArtTool 2000 to install |