This page has been uploaded with the original links to zUpload.com. I am in the process of transferring everything across to grandprixgames.org, so please be aware that some links may not work. Thank you for your understanding - please try again in a few weeks.
So this is when I totally lost the plot. For both Grand Prix 3 and GP3-2000, I created a monster, with updates for not only race data, but car liveries and designs and driver helmets for every race of the season. I must have been mad. Anyway, here it is, a testament to getting completely carried away with what you're doing.
Formula 1 Season 2004 from the Smoking Pen is available for both Grand Prix 3 and Grand Prix 3-2000. Please note that all carsets are HARDWARE MODE only - but I've got good results for software versions of most cars using the Create Software option in GP3Edit. There is a master GP3 carset for the Australia race and updates for the following races with any changes. The GP3-2000 set features all of the cars from all of the races!
With only 20 cars racing in Formula 1 in 2004, I added an extra team, with Jacques Villeneuve and Heinz-Harald Frentzen as the drivers. Whilst this team and livery feature in the team arts sets, for those who want to create their own team, I have released the template for this car for you to edit, in .psp format for PaintShop Pro and .psd format for Photoshop, available on the Templates page.
The GP3 carsets require GP3Edit to install. The GP3-2000 carset will unzip into your Grand Prix 3 Season 2000 folder and create it's own folders, whilst the GP3-2000 team art requires Marc Aarts' Art Tool to install. To run properly, the Grand Prix 3-2000 set requires GPxPatch 2.21 or higher.
The graphic below shows 11 cars from the Australia set for GP3 v1.13.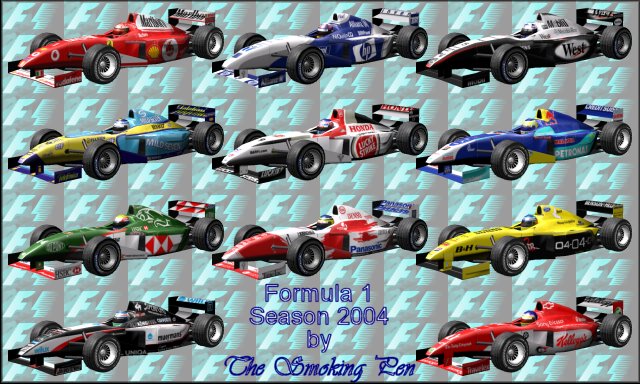 Team Arts &amp Templates
| | | | |
| --- | --- | --- | --- |
| Download | File Name | File Size | Description |
| | 2004f1b.zip | 2884KB | This zip file contains the team art, driver photos and menu graphics in GP3 format, ready to load into GP3 v1.13 using GP3edit. |
| | f104gp32kart.zip | 3617KB | This zip file contains the team art, driver photos and menu graphics in bitmap form, ready to load into Grand Prix 3 Season 2000 using Art Tool. |
Race Sets for Grand Prix 3
Master Set - Australian Grand Prix Edition
| | | | |
| --- | --- | --- | --- |
| Download | File Name | File Size | Description |
| | 2004f1aust.zip | 1215KB | Race-specific graphics and performance files in GP3 format for the Australian Grand Prix. |
Update Sets
To use the update sets, first export the 2004 Australian Grand Prix set into GP3 using GP3Edit, then upload the files in the update set. Make sure that you do not overwrite the car number positions for all cars when you do this.
| | | | |
| --- | --- | --- | --- |
| Download | File Name | File Size | Description |
| | 2004f1mala.zip | 465KB | Race-specific graphics and performance files in GP3 format for the Malaysian Grand Prix. |
| | 2004f1bahr.zip | 372KB | Race-specific graphics and performance files in GP3 format for the Bahrain Grand Prix. |
| | 2004f1sanm.zip | 429KB | Race-specific graphics and performance files in GP3 format for the San Marino Grand Prix. |
| | 2004f1spai.zip | 427KB | Race-specific graphics and performance files in GP3 format for the Spanish Grand Prix. |
| | 2004f1mona.zip | 471KB | Race-specific graphics and performance files in GP3 format for the Monaco Grand Prix. |
| | 2004f1euro.zip | 429KB | Race-specific graphics and performance files in GP3 format for the European Grand Prix. |
| | 2004f1cana.zip | 536KB | Race-specific graphics and performance files in GP3 format for the Canadian Grand Prix. |
| | 2004f1usa.zip | 580KB | Race-specific graphics and performance files in GP3 format for the United States Grand Prix. |
| | 2004f1fra.zip | 594KB | Race-specific graphics and performance files in GP3 format for the French Grand Prix. |
| | 2004f1gb.zip | 568KB | Race-specific graphics and performance files in GP3 format for the British Grand Prix. |
| | 2004f1ger.zip | 560KB | Race-specific graphics and performance files in GP3 format for the German Grand Prix. |
| | 2004f1hung.zip | 565KB | Race-specific graphics and performance files in GP3 format for the Hungarian Grand Prix. |
| | 2004f1belg.zip | 563KB | Race-specific graphics and performance files in GP3 format for the Belgian Grand Prix. |
| | 2004f1ita.zip | 566KB | Race-specific graphics and performance files in GP3 format for the Italian Grand Prix. |
| | 2004f1chin.zip | 596KB | Race-specific graphics and performance files in GP3 format for the Chinese Grand Prix. |
| | 2004f1jap.zip | 602KB | Race-specific graphics and performance files in GP3 format for the Japanese Grand Prix. |
| | 2004f1brz.zip | 553KB | Race-specific graphics and performance files in GP3 format for the Brazilian Grand Prix. |
Grand Prix 3 Season 2000
| | | | |
| --- | --- | --- | --- |
| Download | File Name | File Size | Description |
| | 2004f1gp32k.zip | 14946KB | The Smoking Pen's Season 2004 F1 Carset, featuring all of the cars and drivers in the first 15 races of Season 2004. |
| | 2004f1gp32k-sp3.zip | 2036KB | For those who previously downloaded the Smoking Pen's Season 2004 F1 Carset, this is the update for the final 3 races of Season 2004. |